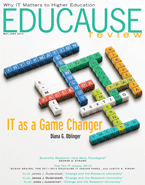 The EDUCAUSE annual publication of the most pressing issues for IT leaders in higher education.
Updating IT professionals' skills and roles to accommodate emerging technologies and changing IT management and service delivery models
Supporting the trends toward IT consumerization and bring-your-own device
Developing an institution-wide cloud strategy
Improving the institution's operational efficiency through information technology
Integrating information technology into institutional decision-making
Using analytics to support critical institutional outcomes
Funding information technology strategically
Transforming the institution's business with information technology
Supporting the research mission through high-performance computing, large data, and analytics
Establishing and implementing IT governance throughout the institution

Sneak Peek: EDUCAUSE Top-Ten IT Issues 2012 Teaser from EDUCAUSE on Vimeo.
A quick look at the first three issues on the list.
Full Text: Top-Ten IT Issues, 2012 EDUCAUSE Review | EDUCAUSE .