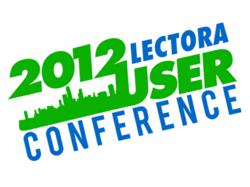 Mobile Application Provides Convenient Access to Valuable Resources for Learning, Networking & Fun for the e-Learning Conference & Chicago
2012 Lectora User Conference in Chicago
Cincinnati, OH (PRWEB) May 17, 2012
The 2012 Lectora® User Conference announces the release of a new, free mobile application that provides direct access to valuable resources for the upcoming conference May 22 – 24 in Chicago. Now available for download in the iTunes store and Google Play, the "LUC 2012" app provides all the e-Learning essentials and more for the 2012 Lectora User Conference.
"This one-stop-shop mobile application provides everything each attendee needs to enrich their experience at the 2012 Lectora User Conference," said Peter Bray, Chief Marketing Officer at Trivantis Corporation. "Attendees gain one-click access to all of the conference details, their favorite social networks and access to the hottest spots in downtown Chicago. This app is the perfect resource for our guests to soak up every minute of the conference and their stay in in Windy City."
The multipurpose mobile application, "LUC 2012," provides instant access to everything attendees need at the 2012 Lectora User Conference:
Conference Essentials
    Receive push notifications for Lectora User Conference updates, news and alerts
    Access the full 2012 Lectora User Conference schedule, map, special announcements and speaker directory
    View the exhibitor directory and quickly find your favorite e-Learning vendors
Social Opportunities
    Network and share with the world on Facebook, Twitter and LinkedIn
    Check in to your favorite Chicago spots via FourSquare
    Take pictures right from the application to share instantly on the best social sites
    "Bump" devices to share contact information with new friends and colleagues
Explore Chicago
    Tap into the Chicago Marriott Downtown Magnificent Mile conference location map
    Dive into information about the hottest local restaurants, entertainment and attractions
    Get instant directions and access airport and rental car information
To download this free and easy-to-use mobile app, visit the iTunes Store or Google Play and search for "LUC 2012."
In its eighth year, the Lectora User Conference draws e-Learning developers and professionals from around the world. Attendees gain exclusive access to speakers Jeremy Gutsche, Erik Wahl and Sandy Carter, dozens of e-Learning presentations, endless e-Learning tips and tricks, free products and valuable networking opportunities for innovation, learning and fun.
For more information about the 2012 Lectora User Conference mobile app, to register and more, please visit: 2012 Lectora User Conference.
About Lectora® and Trivantis® Corporation
Lectora® is the world's leading e-Learning software used by most Global 2000 companies in more than 125 countries and is offered in six languages. The Lectora line of e-Learning products includes Lectora Inspire, Lectora Online, Lectora Publisher and Lectora Integrator. Trivantis® also produces Flypaper™, the leading Flash content creation platform that empowers users to create, edit, share, track and reuse high-impact Flash and video content. Snap! by Lectora® is the easy-to-use PowerPoint plug-in rapid e-Learning software that converts PowerPoint to Flash. Its sister product, Snap! EmpowerTM Flash interactions builder, enables anyone to create Flash content without having to know Flash programming. To round out the Trivantis family of products, CourseMill® is the powerful and affordable learning management system (LMS). The latest release, Lectora Talent Management, provides the link between course management and true talent development for companies and organizations. Headquartered in Cincinnati, Ohio, Trivantis Corporation also has offices in Boca Raton, Phoenix, Paris and London. Trivantis, Lectora, Flypaper, CourseMill, Snap! by Lectora and Snap! Empower are trademarks of Trivantis Corporation.
Website: http://www.Trivantis.com
Phone: 877.929.0188
Facebook: facebook.com/Trivantis
Twitter: twitter.com/Lectora
Blog: trivantis.com/blog & rapid-e-learning.trivantis.com/e-learning-blog
Full Text: Lectora User Conference Releases Mobile App for Leading e-Learning Event.